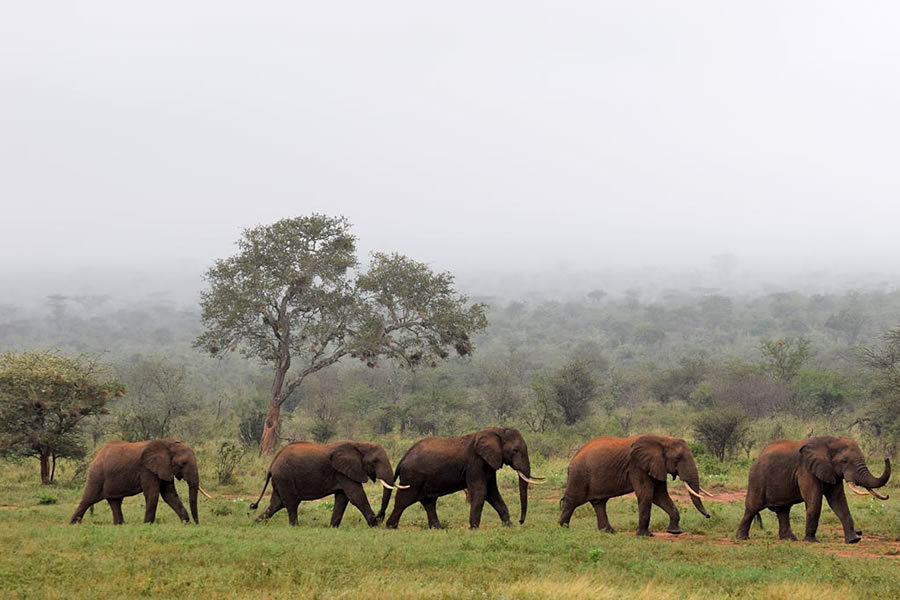 A herd of elephants at the Tsavo West National Park
Tsavo West National Park is situated on Kenya's southern border with Tanzania, located about 200km south east of Nairobi. Combined with Tsavo East, this park forms one of the world's largest game sanctuaries. Tsavo West has a variety of landscapes, from swamps and natural springs to rocky peaks, extinct volcanic cones, to rolling plains and sharp reddish outcrops.
This national park to offer a host of attractions: the magnificent scenery, Mzima Springs, rich and varied wildlife, good road system, rhino reserve, rock climbing potential, and guided walks along the Tsavo River.
Activities
Game drives, picnics and walking safaris.
Accommodation
The safari lodges in Tsavo West cater to everyone from the budget visitor to the luxury-seeking tourist. Lodges include the Finch Hattons Camp, the Voyager Ziwani Safari Camp, Kilaguni Serena lodge, Severin Safari Camp and Ngulia Lodge.
Attractions
Tsavo West National Park offers many activities and tourist attractions, as well as wildlife safaris. A wildlife safari is the best way to see Kenya's wildlife close-up in its natural environment. Tsavo West is home to the largest population of red-skinned elephants as well as to members of the rest of the "Big 5" African animals (buffalo, African lions, leopards and rhinos). There is also a host of Kenyan birds and other animals, both large and small, to see.
Lake Jipe attracts a lot of wildlife and is a good place for bird watching. It is fed by the run-off from Mount Kilimanjaro and the North Pare Mountains. Take a boat excursion on the lake, or explore the swamps at each end.
Mzima Springs is at the north end of Tsavo West. Water from the Chyulu Hills runs from beneath the lava ridge and forms several natural pools. Fringed with palm trees, these pools are popular watering holes for birds and African wildlife.
Bird watching safaris are best between October and January, featuring many migratory birds including African skimmers, red and yellow bishops, goshawks, buffalo weavers and palm nut vultures, to name a few.
When to visit
January and February are good months to visit Tsavo West, as well as June to September. Visiting during the heavy rainy season of March to May should be avoided as the roads become very muddy.
Getting there
The park is located in south eastern Kenya about 240km (150 miles) from Nairobi on the highway to Mombasa. Most guests will drive-in or be driven to Tsavo West from Nairobi, Mombasa, or enter from the adjacent Amboseli National Park. The main access routes are through Chyulu Gate from Amboseli and Mtito Andei Gate from Nairobi. Visitors from Mombasa will make use of Tsavo Gate near Manyani. There are three main airstrips in the Tsavo West National Park at Kilaguni, Finch Hattons and Ol Donyo Wuas. However many of the lodges have their own private airstrips.