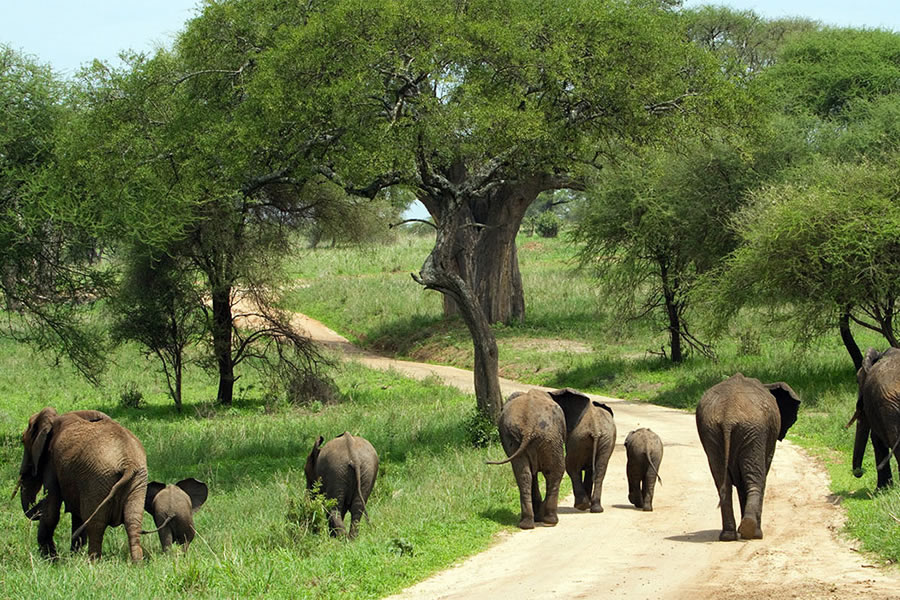 Tarangire National Park
Boasting a variety of wildlife as diverse as its landscape, Tarangire is the park that can boast being home to Tanzania's largest population of African elephants. With four of the Big Five also residing within the park, it is a great spot for a day trip from Arusha or as an addition to a Serengeti/Ngorongoro centred itinerary.
Tarangire is home to all of Tanzania's most iconic animals - from the diminutive dik-dik to the towering African elephants and giraffes that attract visitors from all around the world. In addition to these popular animals, the park is also home to three endangered animals that can be found nowhere else in the country: the fringe-eared oryx with its graceful horns, the towering greater Kudu, and the tiny Ashy Starling.
The park is also popular destination for birds and the people who love to watch them. With more than 550 species of bird - the highest number on all of Tanzania - Tarangire truly is a birdwatcher's paradise. The park is home to hoopoes, hornbills, brown parrots, and the white-bellied go away bird as well as game birds such as the helmeted guinea fowl, yellow necked spurfow, and the crested francolin.
Activities
Game drives, night game drives and walking safaris.
Accommodation
The park covers a truly massive area of land, with different corners of the park offering up wildly different game drive and accommodation experiences. Dependent on the time of year you are visiting, different areas of the park offer up something different. The movements of the Wildebeest Migration further complicate things; if you're hoping to track this massive movement of wildlife, you'll want to be right at the heart of the action.
When to visit
All year round but dry season for sheer numbers of animals. Between August and October when the wildlife is at its most concentrated.
Getting there
The park is located between the meadows of Masai Steppe to the south east and the lakes of the Great Rift Valley to the north and west. Arusha town is a starting point to many for most of the safaris to this circuit.Tarangire is almost the least visited park among those Tanzanian parks in the North.