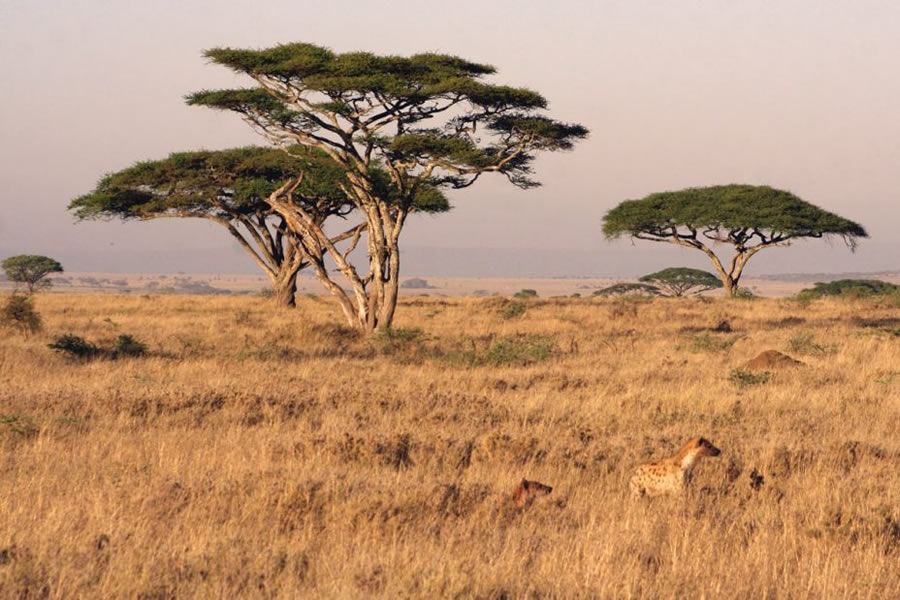 The Serengeti is the most renowned wildlife park in the entire world. Over 10,000 sq miles of pristine wilderness play host to the Great Migration and boast the highest density of large predators, including lions, leopards and cheetahs, in the world! Grass plains, woodlands, hills, and rivers abound.
As overwhelming as the game-viewing, is the sight of the almost infinitely wide Serengeti plains. The word Serengeti means "endless plain" in the language of the Maasai people who were grazing their livestock here approximately 200 years before the first European explorers arrived in the area. Harsh winds and intense heat make for an extreme environment but during the rain season this dusty savannah marvellously transforms into a sea of green grass, dotted with wildflowers.
Activities
Game drives, balloon safaris, trips to see rock art at the Kopjes and to Maasai villages. It is possible to visit the Oldupai Gorge (archaeological site), the volcano OI Donyo Lengai and the flamingos at Lake Natron.
Accommodation
The park covers a truly massive area of land, with different corners of the park offering up wildly different game drive and accommodation experiences. Dependent on the time of year you are visiting, different areas of the park offer up something different. The movements of the Wildebeest Migration further complicate things; if you're hoping to track this massive movement of wildlife, you'll want to be right at the heart of the action.
When to visit
December to March and June to July is the best time to follow the wildebeest migration. June until October is the best time to observe predators.
Getting there
The Serengeti is 335 km from Arusha, on the western side of the Ngorongoro Conservation Area. In the north it is bordered by Kenya (Masai Mara National Park) and on the west by Lake Victoria. One can travel by vehicle or by air plane to the Serengeti. Charter flights are available from Arusha, Lake Manyara, Mwanza and Zanzibar.