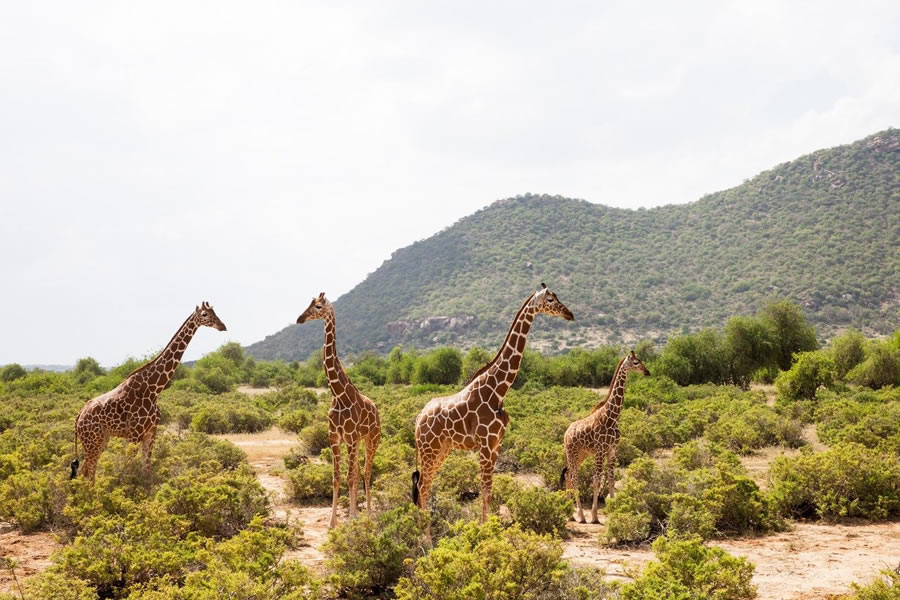 The reserve is rich in wildlife with fame for abundance in rare northern specialist species such as the Grevy Zebra, Somali Ostrich, Reticulated Giraffe, Gerenuk and the Beisa Oryx. The reserve is also popular with a minimum of 900 elephants. Large predators such as the Lion, Leopard and Cheetah are an important attraction (Kamunyak the Miracle Lioness that adapted the baby Oryx is a resident in the reserve).
Samburu National Reserve derives its name from the Samburu people of Kenya who have lived in the area for many years. The Uaso Nyiro River cuts through this reserve, drawing a big population of Kenya animals to the park. The river bustles with activity from its huge population of Nile crocodile. The reserve's topography is mainly open savannah (grassland) with clusters of acacia trees, forest, thorn trees and grassland vegetation..
Activities
Game Viewing: In the southern part of the park, you are guaranteed to see most of the Kenyan animals found in Samburu, namely: cheetahs, lions, leopards, impalas, buffalo, hippos, and dik-diks, as well as the native gerenuk, Grevy's zebra, reticulated giraffe and Beisa Oryx. You are guaranteed to see most animals during the dry season as they converge at the Usaso Nyiro River, their main source of water during the long dry weather. Elephants are also spotted during this time, and you can watch the Nile crocodiles swim in the river.
Bird Viewing: Samburu National Reserve is a paradise for bird lovers, with over 350 species of birds already recorded. You can enjoy a colorful assortment of birds such as vultures, kingfishers, marabous, bateleurs, guinea fowl, Somali ostriches and many more.
Samburu Cultural Tours: Visit the local Samburu villages where you get a chance to interact with the colorful Samburu people in their traditional setting and experience their culture. This is a good opportunity to purchase traditional Samburu souvenirs, art and collectibles.
Accommodation
Safari lodges in Samburu include the Samburu Sopa Lodge, Samburu Serena lodge, Samburu Game Lodge, Sarova Shaba, and Samburu Intrepids Camp, as well as the luxurious and eco-friendly Larsens Tented Camp. Campsites are available but most of them do not have any facilities, you must provide all of your own camping gear.
When to visit
The months of December through March and July through October are dry, making them by far the best months to visit the Samburu National Reserve. April through June are also good months but might be rainy.
Getting there
Samburu National Reserve is situated at the southeastern corner of Samburu District in the Rift Valley Province of Kenya.
By Road: Use your own vehicle, take public transportation, or book an open-topped minibus or safari van tour with a tour guide. The park is located about 345km (approx. 214 miles) from Nairobi, or about a five-hour drive. The roads and tracks to the park are all weather. The reserve is accessible by road via Isiolo and Archer's Post.
By Air: The game reserve is accessible by air and there are daily flights from Nairobi to Samburu that you can book online. Travel time is about 45 minutes and the flights land at the park's airstrip. Private charter flights are also allowed to use the airstrip.