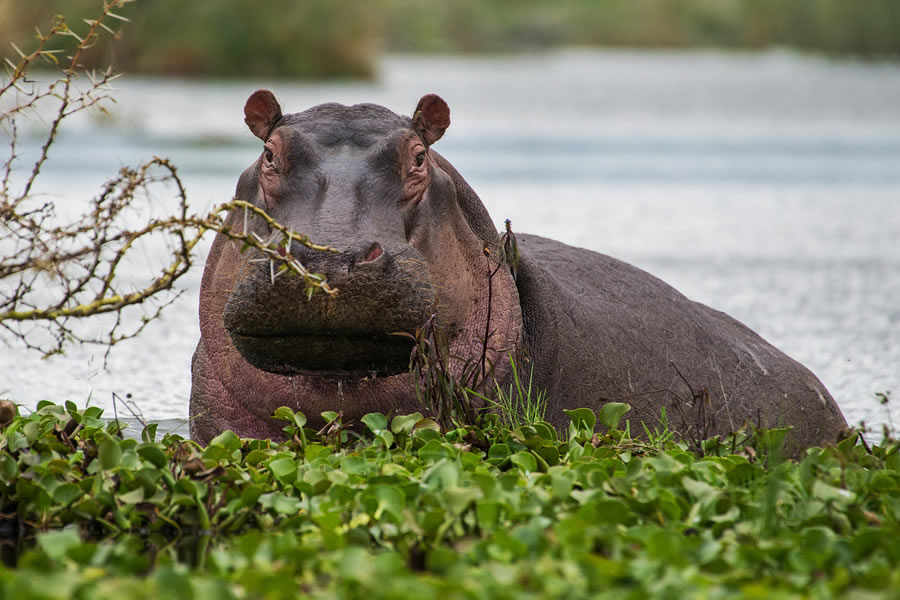 A hippo on Lake Naivasha
Lake Naivasha is a picturesque freshwater lake surrounded by hills that are home to wildlife. The waters of the lake draw a great range of games to these shores. Giraffes wander among the acacia, Buffalo wallow in the swamps and Colobus monkeys call from the treetops while the Lakes large hippo population sleep the day out in the shallows.
Kenya safari tours - Green crater lake Naivasha
One of the main attractions is Hell's Gate National Park, savannah grassland – complete with wildlife herbivores, exotic birds, and rugged scenery. The park is home to animals like antelopes; zebras; monkeys; boars; and hippos, and birds like pelicans; the fish eagles; kingfishers; and flamingos.
Crescent Island, in the southeastern part of the lake, is a peninsula with the crescent it was named after being the leftover rim of a volcano. This is a game sanctuary that can be reached by boat, and through which you can take a gentle walk to enjoy the gazelle, waterbuck, giraffe, and birds.
Lake Oloiden is one of the least popular, but pristine places to visit in Naivasha. It is surrounded by flower farms and the most striking feature is its flamingos.
Crater Lake is just 10km from the town of Naivasha. The green-colored alkaline lake is within a game sanctuary. Enjoy game walks in this sanctuary to see birds, giraffes, zebras, buffaloes, and elands.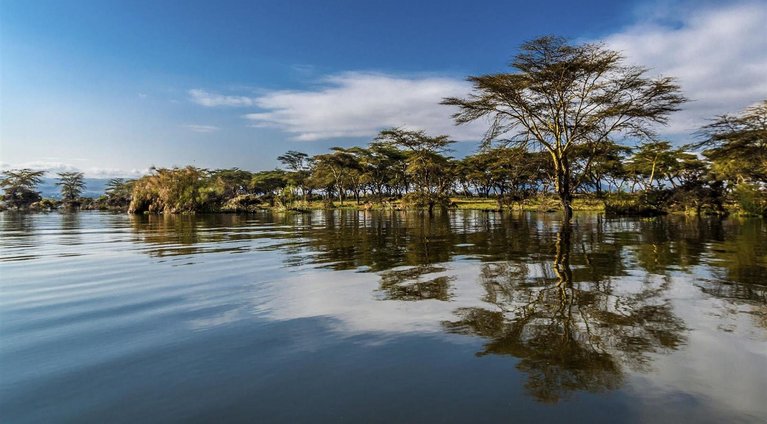 Activities
Lake Naivasha has many yacht clubs, providing watersport lovers with the thrill on the lake. Best for an overnight holiday or a stopover between two or more safari destinations.
Particular sites at Hell's Gate National Park include the Fischer's tower, Njorowa gorges, and the Central tower, where visitors are encouraged to do hiking, rock climbing, cycling, and horse riding.
The park has three campsites and includes a Maasai Cultural Center, to showcase the history of the tribe.
You can also visit Ol-Karia geothermal power projects that use hot springs to generate power, and have a view of how hot water seeping out of the surface sustains bright green algal colonies that have clearly adapted to the water high temperatures.
Accommodation
Naivasha boasts some of the best hotels and lodges in the country, with over 46 hotels, 3 to 5- stars hotels as well as budget hotels. Some of the best hotels include Lake Naivasha Country Club, Lake Naivasha Simba Lodge, Flamingo Hill Camp, Lake Naivasha Resort and Great Rift Valley Lodge.
When to visit
The months of December through March and July through October are dry, making them by far the best months to visit the Samburu National Reserve. April through June are also good months but might be rainy.
Getting there
Lake Naivasha is only 110 kilometers from Nairobi (One and a half hours drive).