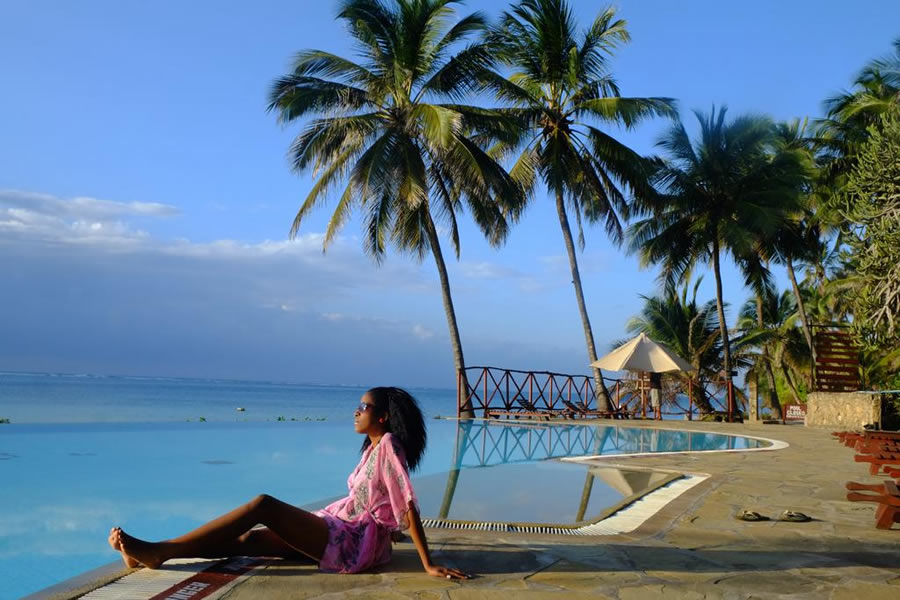 A tourist at hotel in Mombasa
The Kenyan Coast, with its capital Mombasa, is renowned for palm-fringed white sand beaches, boasting turquoise waters of the Indian Ocean. Many are tucked away from the tourist crowds and beach boys, and some are described as the most beautiful beaches in the world.
Rocky outcrops, low cliffs and patchy coral on sandy bays are there for you to explore! Beaches include Diani Beach, Gallu Beach, Tiwi Beach, Msambweni, and Malindi. The Kenyan coast has maintained its reputation as the hot bed of Kenyan tourism for decades. This is because of its numerous pre-historic attractions, the pristine sandy white beaches of the Indian Ocean, warm welcoming weather especially for European sun-downers and the rich culture of the coastal communities to name just but a few.
Activities
Enjoy surfing, snorkelling, deep-sea fishing and other water sports, as well as sunset dhow trips, bird-watching and guided forest walks. There's a hassle-free atmosphere on the South Coast which together with a wide range of accommodation, kids' entertainment clubs and golf courses make for matchless family beach holidays.
Accommodation
The Kenya coast is dotted with some really fantastic spots up and down its shores, with the notably brilliant Lamu Island on the doorstep. There are lots of fabulous accommodation options to choose from, and we know the best spots for brilliantly white beaches, vibrant East African culture or activities for the ocean adventurers out there.
When to visit
Kenyan coastal destinations are good to visit all year round.
Getting there
Most guests will take a flight to Mombasa from Nairobi or drive via Nairi-Mombasa Road.