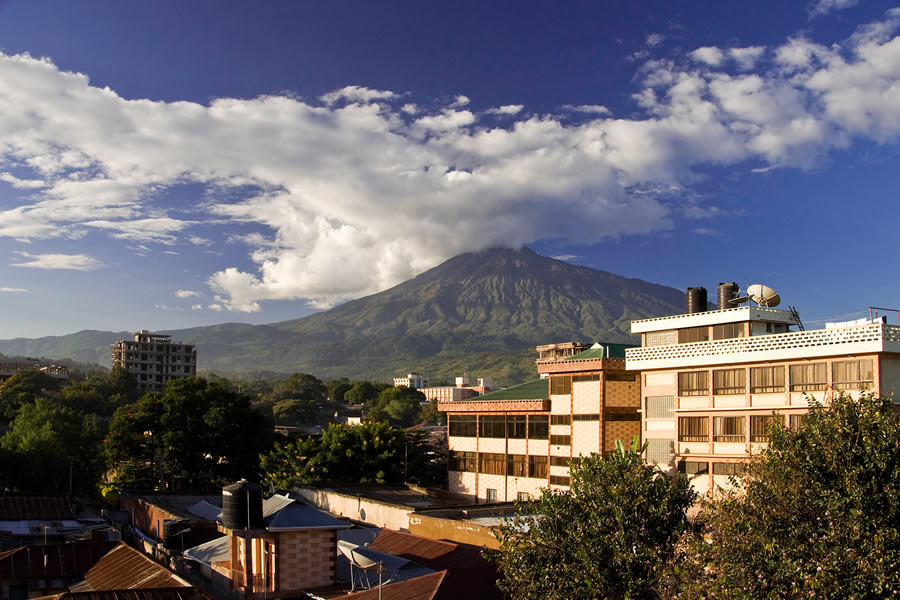 Mount Meru overlooking the city of Arusha
Arusha is a city in northern Tanzania surrounded by some of Africa's most famous landscapes and national parks. Situated below Mount Meru on the eastern edge of the eastern branch of the Great Rift Valley, Arusha has a temperate climate. The city sometimes referred to as the "safari capital" of the northern circuit, is served by Kilimanjaro International Airport which has several weekly flights to and from Europe.
There is also a small domestic airport for flights out to the various national Parks as well as to the Coast. Arusha is easily reached from Nairobi by road (about five hours journey) or by air (a one hour flight), and there are several hotels which offer satisfactory accommodation.

The city is close to Serengeti, Ngorongoro Crater, Lake Manyara, Olduvai Gorge, Tarangire National Park, Mount Kilimanjaro and The Arusha National Park on Mount Meru. Mt. Kilimanjaro with its three volcanic cones is the highest mountain in Africa and indeed the highest free-standing mountain in the world at 5,895 metres above sea level. Arusha is a major international diplomatic hub and also home to the famous Arusha International Conference Center, host to many international meetings.
Activities
Climbing Mt. Meru or enjoying the smaller trails that criss-cross its lower slopes is a popular activity for visitors to Arusha National Park. The three-day trek to reach the crater's summit is a quieter, and some say more challenging alternative than the famous peak of nearby Mount Kilimanjaro.
Best time to visit
To climb Mount Meru, June-February although it may rain in November. Best views of Kilimanjaro December-February.
Getting there
An easy 40-minute drive from Arusha. Approximately 60 km (35 miles) from Kilimanjaro International Airport. The lakes, forest and Ngurdoto Crater can all be visited in the course of a half-day outing at the beginning or end of an extended northern safari.